Potato Dumplings – Ultimate Guide with Amazing Recipes
One of the most popular and traditional dumplings are potato dumplings. In Germany, Austria, Poland and Czechoslovakia you can find numerous variants of potato dumplings. But they all have one thing in common. They taste best with meat and poultry dishes that come with a delicious gravy.
How to make Potato Dumplings
Potato dumplings can be made from raw and/or cooked potatoes. If you are short on time, you can even prepare them with potato flakes from a package.
There are numerous recipes for different types of potato dumplings. Most variants resort to cooked or raw potatoes. The so-called "halbseidene" dumplings consist of 50% cooked and 50% raw potatoes. "Grüne" dumplings are made entirely from raw potatoes.
Where to buy Potato Dumplings?
In Germany, some German delis and in online stores like Amazon and Walmart, you can even find ready-made dumpling dough in the refrigerated section of your supermarket and ready-made dumplings in instant packs, which you only have to boil in water.
A Few German Potato Dumpling Variations
Potato dumplings from boiled potatoes
These recipes only call for cooked potatoes to make the dumpling dough. They are soft and have a light and fluffy consistency.
Potato dumplings from raw potatoes
Only raw, grated potatoes are used in these potato dumplings. They have more texture and show a slightly glassy surface.
Potato dumplings half and half
This variation uses one-part raw grated potatoes and the other part cooked potatoes. Some would say they combine the best of both of the above preparation methods.
Stuffed potato dumplings
Potato dumplings become especially delicious when they are stuffed. There are many possibilities. The most common filling variations are toasted white bread cubes, bacon, mushroom ragout, cheese, herbs or meat.
Thüringer Klösse – Thuringian dumplings
Thüringer Klösse, in the regional dialect also called Kleese, are upon first glance a simple potato dumpling. However, the East German specialty´s mixing ratio is very unique. Thuringian dumplings consist of two-thirds raw grated and one-third cooked potatoes.
Silesian potato dumplings
These dumplings are common in Silesia/Germany and throughout Polish cuisine. They are also called rubber dumplings. Their dough is prepared from flour and boiled potatoes, and before cooking they are formed into flattened balls with a depression pressed into the center of one side. They are usually eaten as a side dish with meat and sauce (e.g. roast meat, goulash), but also very popular just topped with fried onion slices or bacon.
Spotzen
The region of the Upper Palatinate has a dumpling variant that includes stale bread rolls as well as potatoes. Whole milk or cream as a binder. This variation is an interesting mixture of bread dumpling and potato dumpling.
Sweet Potato Dumpling Variations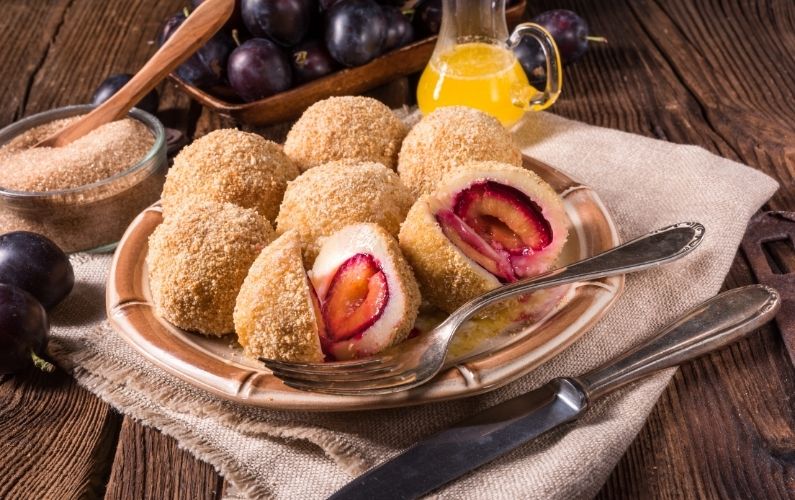 In addition to the savory dumpling varieties, you can also enjoy sweet dumplings as a delicious dessert. The sweet dumplings are quickly made and can be filled with plums, apricots, peaches, Nutella or chocolate. Traditionally served with browned butter or buttered bread crumbs.
Dumplings or Not? Schupfnudeln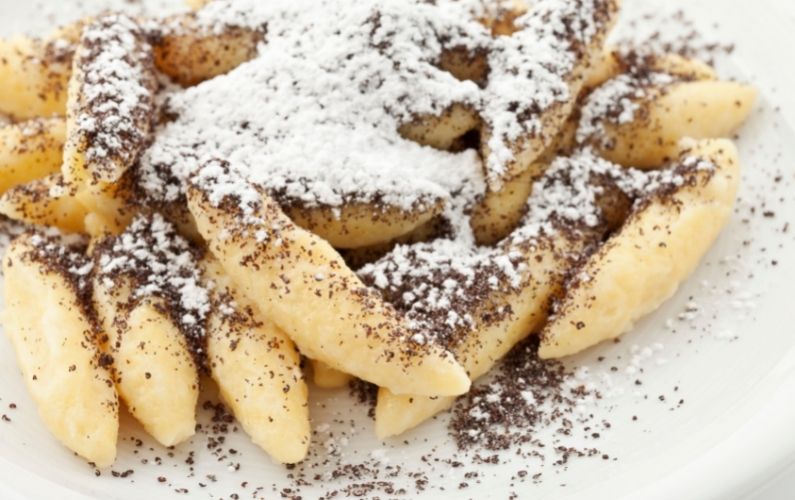 In Germany, no one would call Schupfnudeln a potato dumpling. The Southern German delicacy originally comes from the Swabian-Alemannic region and got its name during the Thirty Years' War. At that time, the German soldiers used their hands to form a finger-sized noodle from their flour ration and water rations. The way of making it with their typical hand movement "schupfen" gave the Schupfnudel its name.
Later, the flour was stretched with inexpensive soft-boiled potatoes to make more dough. Over time, the recipe was refined with eggs, salt and nutmeg, and today corresponds to the same ingredients as in some of the traditional recipes for dumplings.
Schupfnudeln can be enjoyed as a side dish or as a main course. They offer many possible combinations in preparation and ingredients and can be prepared not only savory, but also sweet. Traditionally, they are fried in butter or served with sauerkraut.
German Name for Potato Dumplings
The German word for potato dumplings are "Knödel" and "Kloß", both mean the same thing.
Karoffelkloß (singular: der Kartoffelkloß) or Kartoffelklöße (plural: die Kartoffelklöße)
Kartoffelknödel (singular: der Kartoffelknödel) or (plural: die Kartoffelknödel)
Depending on the region, the most common word used for potato dumplings is either "Klöße" or "Knödel". In the south, people say "Knödel". In northern and western Germany, the term "Kloß" dominates. The origin of the word comes from the Old High German word "Kloz", which meant lump, tuber or ball. In Low German, the word is derived from Klüten, in North Frisia Klump.
In southern Germany and especially in Bavaria, you should definitely order Knödel in the restaurant. In Austria and South Tyrol this designation is also chosen for the popular potato speciality. The word "Knödel" is a diminutive of the Middle High German word "Knode", which describes a knot.
Perhaps you have heard someone speak of Gniedla. This word is usually used in Franconia. In the Franconia accent Gniedla are also called Gneedl or Glües. But you also hear Kleeß and Kließ. Some of these names are also common in other southern Germany and neighboring areas.
There are many regional names for the round specialty, which proves that it is very popular everywhere. And let's face it, no matter what you call them – the most important part is that they taste good.
How to make Potato Dumplings?
The basic ingredients are simple and cheap:
Potatoes: floury potatoes are best, as they contain a lot of starch, which keeps the dumplings in shape.
Potato or other starches and/or flour: The starch gives hold in addition to the potatoes and make it possible to shape a ball.
Whole eggs, egg yolks, whole milk or cream: Some kind of binder important for the necessary binding. The dumpling should not fall apart!
Spices: Nutmeg and salt bring the subtle flavor. In some recipes you will find also the addition of pepper or finely chopped herbs for a more flavorful seasoning.
The Top Potato Dumpling Recipes
Traditional German Potato Dumplings from Cooked Potatoes
Potato Dumplings
Ingredients
2 pounds potatoes
1/2 cup all-purpose flour
1 egg
1 1/2 tsp. salt
1/2 tsp. nutmeg
Instructions
Cook or microwave potatoes until soft.
Press through potato ricer into a large bowl.
Add egg, flour, salt and nutmeg.
Mix well and allow to rest for about 30 minutes.
Shape dough into dumplings.
Drop dumplings with a slotted spoon into simmering water and cook for about 15 -20 minutes.
Nutrition Information:
Yield:

6
Serving Size:

1 grams
Amount Per Serving:
Unsaturated Fat:

0g

Silesian Dumplings with Green Peas and Kale, and Red Pesto Sauce
German Potato Dumplings Recipe | Boiled and Raw Potatoes mixed
Potato Dumplings with Mushroom Ragout
Crouton Stuffed Potato Dumplings
One Pot Creamy Turkey and Potato Dumplings

What to Serve with German Potato Dumplings?
To the question "What do dumplings go with?" there is a simple answer: dumplings go with a lot of delicious gravy, especially roasts with a lot of sauce, but also with hearty goulash and many vegetable dishes.
Some traditional German dishes that can be served with dumplings as a side are the following:
Pork Shank, Pork Roasts and Beef Roasts
Roast and dumplings are the classic par excellence. It is a beloved Sunday dish with a long tradition. Dumplings and a juicy roast are a match made in heaven. A must: the gravy.
Did you know? Real dumpling connoisseurs never cut the dumpling with a knife, but pluck it apart with a fork. This creates a rough surface that can absorb the sauce very well.
Meat Stews
Hearty stews can be easily prepared in advance and are popular with the whole family. Of course, the sauce is also the focus here, which harmonizes perfectly with the dumplings. The most popular representative of the hearty meat stews is the goulash, like the delicious beer goulash here on the blog.
Mushroom Stews
The delicious combination of mushrooms and dumplings is not only popular with vegetarians. Fresh seasonal mushrooms, i.e., creminis, portabellas, or chanterelles, in combination with a creamy sauce are a delicious main dish with soul food character.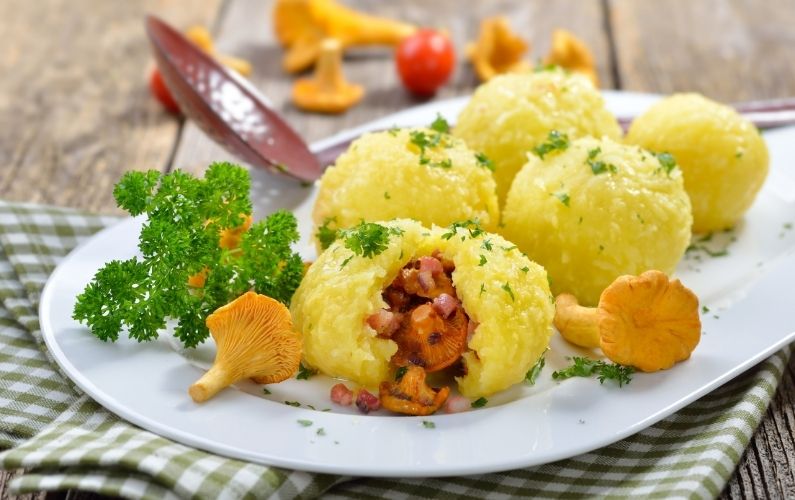 Geese and Ducks
One of the most traditional German Christmas and New Years Eve dishes are poultry dishes. Aromatic fragrant, crispy brown roasted duck or goose with dumplings will put smiles on the faces of your guests and make you look like a gourmet chef.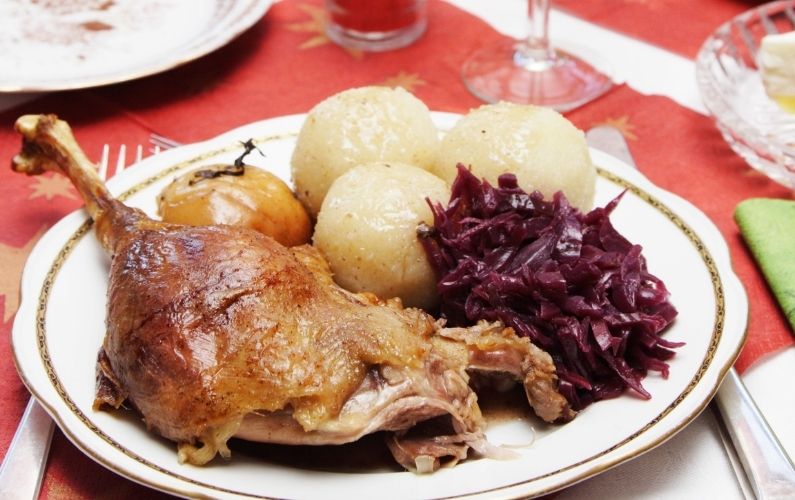 Garnish
If you serve the dumplings as a side dish, they traditionally would be served with breadcrumbs tossed in butter or browned butter and garnished with parsley or other herbs.
Tips & Tricks
How does the potato dumpling not fall apart?
I keep hearing from readers that their dumplings fall apart during cooking. The good news is that this problem can be solved very easy! The most common reason for dumplings falling apart is that the water boils too much. It's best to bring the water to a boil and then turn down the heat to a simmer. The dumplings should only be cooked and not overcooked. Another reason potato dumplings fall apart is that not enough potato flour, or starch, was used. The right amount of binder is crucial for the dumplings to keep their shape.
Tip: It is always best to make a test dumpling first. So first put a dumpling in water and cook it. If it does not fall apart, the composition of the dough is ideal. If not, you can still add a bit more starch to the remaining potato dough before you shape and cook the rest of the dumplings.
How do you know when potato dumplings cooked?
It usually takes between 20 and 30 minutes to fully cook potato dumplings. Of course, dumplings made from cooked potatoes cook faster than dumplings made from raw, grated potatoes. The best way to recognize cooked dumplings is that they float on the surface of the water.
How do potato dumplings keep their color?
When you make dumplings with raw potatoes you will discover some discoloration that will make your dumplings look brown or greyish-green. In order for the potato dumplings to retain their beautiful yellow color, you can use these two methods.
1. Turmeric: a pinch of the spice is enough to give the dumpling dough a nice yellow color.
2. Vinegar or lemon juice: Grate the potatoes into cold water with a dash of vinegar or lemon juice to prevent them from oxidizing and turning brown.
How long can potato dumplings be kept in the refrigerator? Can you freeze them?
The best way to store the dumplings is cooked. They can be stored covered in the refrigerator for 2-3 days. Packed airtight, they can last even several months in the freezer.
How to warm up potato dumplings?
Frozen dumplings are best placed in hot water for 10-20 minutes and allowed to defrost and reheated. You can use the same method to warm up cooked dumplings that you stored in the refrigerator.
Alternatively, potato dumplings are also delicious when cut into halves or quarters and then fried in butter to heat up. Another tasty way is to place them into a casserole pan top with cream, cheese and bacon bites and bake in the oven to heat up.
Guten Appetit!